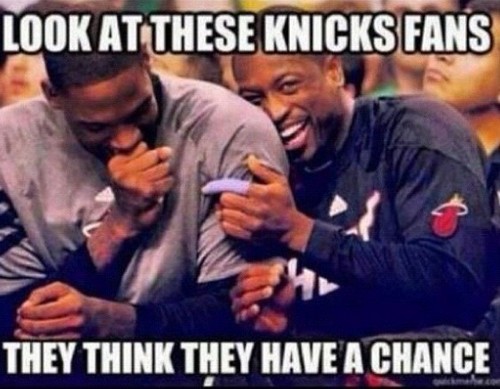 There is this bullshit floating around local media that Kevin Durant and Kyrie Irving must play for the Knicks or the rest of their careers will be lost in the obscurity if they chose to play in Brooklyn. Even if they win according to Boomer and Gino their championships won't matter.
You guys gotta stop with this bullshit.
The argument is made that no matter what the Nets can never win over the entire city. Well, who the fuck cares about the entire city. If the rest of the city and all Knicks fans want to be a bunch of losers that's fine with me.
All this crap about how magical the Knicks uniform is to advertisers, listen that uniform hasn't been magic in more than 40 years. Who doesn't know about Brooklyn world wide?!?
Winning not only cures all but attracts a load of bandwagoners.
What you idiots don't understand, although I have a feeling that a few of you are beginning to get it, no self respecting superstar wants to be a Knick.
They like the big stage of MSG to pull their shorts down and crap on this team in front of Dolan and the entire world.
Ain't nobody going to the Knicks, GET OVER IT.
Why wouldn't a top player want the nightlife, shopping and opportunities New York City has to offer without the circus show every night from the worse run NBA franchise in the league?
Signing with the Knicks would just be dumb for any superstar with options over the Nets.
All the Nets have to do is win and they will attract more than their share of fans and notoriety around the world.
The NBA is much more of a world sport now than it was when the Knicks were winning championships.
Who cares if the Nets don't win the city, if the Nets win a championship they can win the rest of the world. Fuck the Knicks.